FAQ - CHIC LED SOLAR LIGHTING
The solar lighting for billboards and solar street lights work using a photovoltaic system that converts solar energy into electricity. It is a lighting solution that is particularly advantageous because it is economical and ecological.
The solar wall washers and solar street lights are powered by solar panels that capture energy and convert it into electricity. Thus, once the night falls, the energy accumulated during the day allows to generate light. Depending on the light accumulated during the day, the duration and intensity of the lighting can vary.
*Our solar wall washers for information panels are supplied with a remote control allowing to program a lighting time from 4 hours to 12 hours and thus respecting the local lighting regulations.
How do Chic LED solar lights work?
A solar lamp is equipped with a solar panel, a battery, a programmable card and LEDs. During the day, the solar energy recharges the photovoltaic panels. The battery is used to store the electrical energy received by the solar panels.
This energy can accumulate, to offer you a great autonomy in order to light you for several days. Once the night falls, a detector of twilight allows the solar lamp to light up.
This process works all the time, even when the sun's rays are weak. If this is the case, the light intensity of your LED solar light will not be very strong. Indeed, it depends on the light accumulated during the day. Discover the different types of outdoor solar lights offered by Chic LED.
How to install a solar street light or solar wall light?
A solar street light or a solar wall light is easy to install. Indeed, it is not necessary to create electrical connections or to dig trenches. For the placement of your solar lighting, think of putting it in a very sunny place, so that it catches the light well.
For the Chic LED solar wall washer you can fix it on the wall at the entrance of a building or office for example, on information board or advertising billboard. For more lighting, accumulate the solar LED wall lights, for example, along a billboard or along a path. Fix the solar wall washer to the wall with the screw provided in the package.
For the outdoor LED solar street lights, please place them in a sunny place in your garden, for example, or in a sunny place. Light up the isolated sites with these street lights, fix them with the kit provided.
What are the different types of solar lights offered by Chic LED?
Chic LED offers a range of solar LED street lights including modern solar street lights and solar beacon lights; solar LED wall washers.
Chic LED solar street lights provide circular ambient light and can be used to illuminate public spaces as well as private spaces. Here are some examples of our solar street lights installation: public parks and gardens, supermarket parking lots, residential parking lots, housing estates, isolated sites, large plots of land, public squares, streets, paths, promenades.
Chic LED solar beacons can also be used to light up public and private spaces. Their powerful light allows you to mark your pathways for safety. Here are some examples of applications: solar lighting for gardens and private driveways, solar lighting for private swimming pools, solar lighting for camping and vacation villages, solar lighting for public parks and gardens.
As for Chic LED solar wall lights, you can obviously attach them to advertising billboards or information boards. These Chic LED solar wall lights can be used to illuminate the entrance of a building, office, garage or driveway.
You can check out all Chic LED products by clicking here and see some examples of our achievements here.
What guarantee do you have at Chic Led?
Thanks to our 33 years of know-how and expertise, we manufacture all our products on a long-term basis. Indeed, our batteries have a life span of 10 years and our solar panels of 25 years. We promise you the authenticity of our materials which are a pledge of quality within our company. And to better satisfy you, all our products are guaranteed for up to 25 years!
Finally, our after-sales service is there to accompany you after your purchase for an optimization of your product.
What are the advantages of Chic LED solar lights?
Chic LED solar lights have many advantages:
- Easy to install: they do not require any work in terms of trenching or electrical connection.
- Economical: no need to pay for electricity consumption, infinitely renewable.
- Ecological: product using a clean energy source, its production does not generate CO2, the solar lights have no environmental impact.
- Autonomous: only the sun's energy, which is a renewable energy, is necessary for its operation.
- Long-lasting autonomy: Chic LED solar lighting batteries offer several days of autonomy.
- Resistant: IP65, these solar lights are resistant to bad weather.
- Tracking: Chic LED solar lights are equipped with an RFID chip for product maintenance tracking.
What is the difference between a Floor Lamp and a Street Lamp?
The floor lamp and the candelabra are both street lamps: lighting devices for the exterior. The candelabra has a more elaborate shape than the floor lamp, i.e. it is made of several branches like the replica candelabras in the past, whereas the floor lamp has a rather refined shape and a more or less pronounced design.
Both are often installed on squares, along a park, a bridge, an avenue, in estates, private gardens, etc.
Will the solar street light work even if there is little sunlight or bad weather?
Solar LED lights are equipped with the essential elements that enable them to work: solar photovoltaic panel, LEDs, storage battery and of course the sunlight. 
Chic LED solar lights can be adapted to any kind of environment to provide lighting even in low sunlight or bad weather. Our experts have studied the best inclinations and dimensions of our lights to ensure that they work well in both summer and winter. 
The solar panel surface integrated in Chic LED products guarantees energy production all year round even in case of low sunlight. Chic LED batteries store the accumulated energy and are never discharged, so there is always enough charge left for lighting even in bad weather for a long time. Chic LED's powerful batteries guarantee you lighting for 365 nights a year.
What is the purpose of having a programming remote control?
The programming remote control is provided only for products with twilight detection. It is used to program the lighting time which can vary, for a better adaptability within the cities.
For a better understanding here is the detailed guide for your remote control: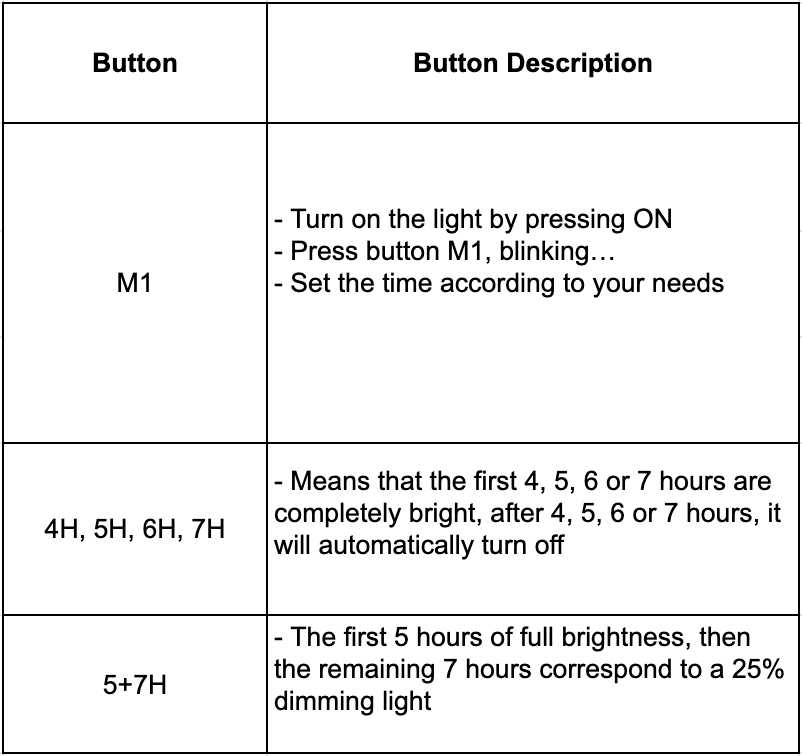 Can we, as individuals, install street lamps or solar lighting?
Thanks to the ease of installation of street lamps, anyone is able to install a street lamp or any type of Chic Led products. For this, an installation and use guide is included with the purchase of a product and we have thought of everything: in case of loss, you can get it on the website. For any problem, our expert team will be there to help you.